Fundraiser Program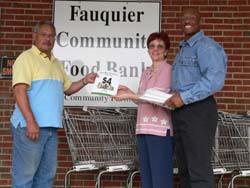 Need to raise money for your group? Pilinut Press can help through a special program featuring the book Feed Your Family of Four for $4 a Day. We support fundraisers by schools, churches, food banks, shelters, charity, and non-profit organizations.
Sell books at the suggested retail price of $10 and your organization makes $5.00 for each book sold! As part of this program, there is the added bonus of free shipping. The minimum order is 25 books.
Supporters can buy books for themselves, as gifts, or for distribution to clients of your non-profit organization.
There are two ways to raise the money.
Method 1: (Works well if you do not have upfront money)
You collect orders and money from your supporters.
You place the total order with us and pay us our share. You keep your share.
In 30 days you receive the books and you can distribute them to your supporters.
Payment method to Pilinut Press: Paypal, money order or check from your non-profit organization.
Method 2: (Works well if you have upfront money and special event planned)
Place and pay for your order.
In 30 days you receive the books.
Sell your books and keep all the proceeds.
Payment method to Pilinut Press: Paypal, money order or check from your non-profit organization.
To get started today just fill out the Fundraiser Response Form to receive your fundraising kit.
Note: Under this program book sales are final.
---
Dear Readers,
When we set up our publishing company, we had several goals in mind. One was to provide entertaining, wholesome reading material the entire family could enjoy. We also wanted to provide opportunities for new authors and illustrators and thus support the creative arts. Another goal was to support all of the organizations that make our world a better place through their good works.
In order to support as many of these types of organizations as possible, we decided to set up a program in which any non-profit organization could raise funds for their programs. The programs might provide food, shelter, clothing, medical care, educational opportunities, disaster relief, and many other benefits to their local communities and the world at large. Pilinut Press does not make a profit in offering $4 a Day as a fundraiser to non-profit organizations. Our goal with this program is to get this important learning tool into the hands of the people who need it most and improve their quality of life.
If you know of or are part of an organization that does these activities and you need to raise money for your organization, please let Pilinut Press help. Contact us today. E-mail works best as we are often away from the phone. mainoffice@pilinutpress.com
Mack and Celia Webb