Author Consultations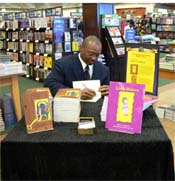 Are you looking for objective feedback on your manuscript from a publishing professional? If you are an author looking for help publishing a children's book, we can help.
We are publishers. We know how to publish children's books and are well-versed in the book development process which includes:
Editing manuscripts
Obtaining ISBNs
Finding an Illustrator
Finding a Printer
Setting the Book's Retail Price
Obtaining a Library of Congress Preassigned Control Number (PCN)
Preparing A Manuscript for Publication as a Self Publisher
Determining Book Trim Size
Book Format and Binding Options
Using the Printer's Templates
Developing Front Matter
Laying out the Text Block
Including Illustrations
Developing Back Matter
Designing the Cover
Finalizing the Book for Submission to the Printer
Copyrighting Your Book
We provide a professional evaluation of your manuscript with feedback on how to find a publisher for your particular story, marketing ideas to help you snag a publisher's interest, and copyediting to strengthen the presentation of your manuscript.
Our schedule allows us to do a limited number of author consultations each year on a first-come, first-serve basis. You could be one of the authors who benefits from our valuable insights into publishing.
Contact us today to set up your Author Consultation. For a nominal fee, we will provide a personal and frank review of your manuscript. Please e-mail us at: mainoffice@pilinutpress.com for more information. Do not send your manuscript at this point - we'll let you know when to do so.